What a Year 2022
I have spent a large part of my life actively avoiding being typical, average, or ordinary. And this is a strategy that has worked well for me. It enabled me to see the world, pay a few things forward, and hopefully become a better person. But 2022 has been a bit "out there" even for me. Looking back, I am amazed at what I accomplished and how smoothly EVERYTHING has gone. An entire year without any significant setbacks or obstacles that were not easily overcome. I have always had a bit more luck than the average person. 
The Back Story
I guess the story of this year really begins in 1998 when I had had enough of working as a nurse. Not exactly burned out, but ready for a change. Therefore, I looked for and found a job in healthcare IT and became a software product manager. While not as stable as working as a nurse (frequent job changes are the norm in IT), it was certainly less stressful. I didn't go to work every day worrying about killing someone. Product management provided a steady 6-figure income that made life easier. It was that same year that I discovered adventure racing and went from being in relatively good physical shape to running week-long multi-sport races through the wilderness of the US, Canada, and Mexico. I have always been athletic, but AR took it to a whole new level.
Over the next ten years, I worked, raced, traveled, and taught myself photography. On a whim in 2005, I bought my first digital camera (a Canon 20D). Keep in mind, the iPhone was still 2 years in the future, and having a digital camera of any kind was still sort of rare. It took about a week for me to realize that just using this camera to play tourist was way too ordinary for me. Browsing the internet for photography jobs it occurred to me that other than nursing and adventure racing, I really did not have a niche that combined very well with photography. There was no way I was going to go into medical photography, and if there was a race happening I wanted to be in it, not shooting it. But I stumbled across a website of a horse photographer and a thought occurred to me. Maybe I could photograph horse shows. I sent a couple of emails to people running horse shows in the area and almost immediately found myself hired to shoot (i.e. photograph) horse shows almost every weekend (They shoot horses don't they?). Thank goodness they did not realize I knew nothing about photography. Gradually, my knowledge and skills improved to the point that I was not embarrassed by the photos I was taking. I even developed a bit of a reputation and was sought out by shows around Oregon and Washington.
After a few years of racing, and three knee surgeries, I cut back on the racing and made travel a bigger focus in my life.  With my newfound photo skills, it was a perfect fit, and OMG Photo and The Travel Writers was born.
Preamble to Retirement
Fast forward to 2008, 2010, 2012…2020. January found me in Borneo.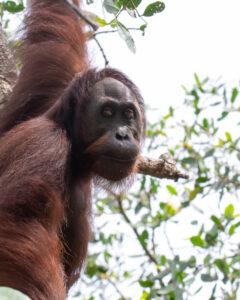 I caught COVID and returned home to be laid off by my employer who by the end of 2020 was already having financial difficulties due to the pandemic.
In August of 2021, at the age of 63 and working short-term contract IT jobs, I was ready to not work anymore. I knew that work had done a good job of supporting my out-of-the-box lifestyle, but it had also become an obstacle to living the life I wanted. So, I made the decision to retire and after a review of my financial situation I knew I could retire in the US, but retiring someplace else would open up tremendous opportunities that would never exist in the States. More money may not buy you happiness (trust me, it does not), but it can certainly allow a happy person to be his or her happiest. I considered Thailand, Vietnam, and Bali…all of which I really enjoy, but the heat and humidity of those places were not to my liking as a long-term home. Portugal is supposed to be nice, but Europe does not hold a huge appeal for me. Then, by way of hundreds of Youtube videos, I discovered Ecuador. I won't bore you with the details of my research (that is for another time), but after a visit in September, it became my choice. I set March 1, 2022 as my retirement/move date and started planning. 
However, to painfully mutilate the words of Moltke the Elder, no plan survives contact with reality. Within only 2 weeks of creating my plan to move to Ecuador in March, another idea (opportunity?) presented itself. It occurred to me that with the abundance of free time that would be available after retiring, there might be other things I wanted to do. Hiking the Pacific Crest Trail was one of them. Starting at the US/Mexico border and ending 2652 miles later at the US/Canada border, this is one of the world's truly epic hiking trails and something I suddenly had to do. My move to Ecuador was pushed back from March to September.
Finally, 2022
That brings us to 2022, the hike and the move. Planning for both events had taken place simultaneously over the past 7 months. This is where things get freakishly smooth with no major hiccups. My plan was to start the Trail in April, finish by mid-September, and only 2 weeks later move to Ecuador.
The Hike
If you are 25 years old and in great physical shape, hiking the Pacific Crest Trail (usually called the PCT) is hard. It is really hard. Seven hundred miles of desert and 1950 miles of mountains will push most people to or beyond their limits. If you are 64, hard does not even begin to describe it. Each year about 4000 people, mostly in their 20s and 30s, are lucky enough to obtain the long-distance permit that allows you to hike the trail. Unless you are some physical and mental freak (and there are a few) this is not something you do without some planning. Unfortunately, there are plenty of people that run out to REI, buy some equipment, and hit the trail with no real training or planning. About 25% manage to finish. There are lots of reasons to not finish, and every year a few people die in the attempt. Planning I did…lots of it. Even though I was in great physical shape for a 64-year-old, I had not spent more than 1 or 2 nights in a tent for quite a few years. Five months of camping awaited me. Again, I won't bore you with the details, but suffice it to say that the time between September of 2021 and April 2022, involved a lot of miles with a knapsack on my back. 
My assigned start date was April 19th. This story is not about the hike itself, so you get the Reader's Digest version. (For those of you too young to remember the heyday of Reader's Digest, look HERE). Twenty-plus miles a day for 5 months. The desert with long, hot summer days full of rattlesnakes, sometimes 20 miles between water sources, and beautiful night skies. The Sierra Nevada mountains with multiple 10,000+ foot passes, no cell coverage, and some of the most awe-inspiring scenery on the planet. Contracted COVID in Bishop, California, and was back on the trail before I knew I was sick. Hiking 10 days, up to elevations of 13,000', with a pounding headache, horrible cough, and fatigue that made every step an effort. Somewhere in there, my Social Security started coming in and my bank account grew instead of shrinking every month. The home stretch of Oregon and Washington places that I know well, but that burned horribly that summer and disrupted much of the hike. Finally, being forced to end my hike only a few miles short of the Canadian border when a wildfire shut down the last 14 miles of the Trail. 

The move
I finished the Trail on September 12th. I had lost 25 pounds that I could not afford to lose, mostly muscle mass. My feet were thrashed and I was coughing, not from COVID, but from all the smoke I had breathed over the past month of hiking. My flight to Ecuador was only 16 days away. Everything I owned, and there was not much left after a major downsizing before the Trail, was in a friend's garage. I packed up 2 bags, my passport, and all the paperwork I needed to get a residency visa in Ecuador, and hopped a plane…Seattle – Miami – Ecuador. The flight was smooth, my Airbnb was great, and the attorney I had hired to help me get my visa was excellent. Six weeks later I had leased an apartment, possessed my 2-year residency visa and resident national ID card (known as a Cedula), and made a quick trip back to the US to pick up the rest of my belongings. Imagine your entire life's possession fitting into 5 pieces of luggage. I had no car payment, no outrageous US health insurance bill, and my rent dropped from $2200/month to $700/month in Cuenca Ecuador. Do I speak Spanish you ask? No, although I can swear well in Spanish thanks to a year of high school in Texas.
Present Day
So, here I am pretty settled in Cuenca. I would not be a good ambassador for Ecuador if I did not tell you about living here. The people are great and truly seem to like Americans (a rare thing in today's world). The healthcare system is good (the public system) to great (the private system). The public system is essentially free and the private system, for which you can buy insurance, is cheap. Ecuador produces a huge percentage of its own food so eating is cheap and healthy. If you want foreign products, be it food or otherwise, they are generally available, but you will pay a premium for them.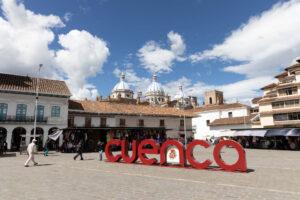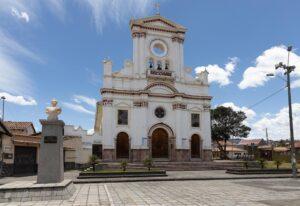 I have leased a 2-bedroom condo with all the typical amenities except for a dishwasher for $700/month (well above the typical rent in Cuenca). It is in a highrise with 24-hour security, only a 2-minute walk to my gym, and a 5-minute walk to the light rail (Tranvia). I went to the chiropractor a couple of times last week. He is an American and charges $15/visit…covered by most insurance if you have it. My full coverage healthcare insurance costs me $120/month. More expensive insurance is available that even covers healthcare expenses you might incur while visiting another country (including the US).
Food is cheap. A meal at a local-style restaurant will cost you $3-5. An upper-end restaurant will top out at $10-12. Buying fruits and vegetables in the local markets is CHEAP. This morning I bought 4 pounds of fresh strawberries (for my morning smoothies) for $4. Large avacados…$0.50 each.
That said, living in Ecuador is not for everyone. It is a small country and does not have the money to spend on some things that Americans (and others) expect. One huge example, there is no functional mail service. It has always been handled by private companies and the last one went out of business. If you want to buy a TV, a computer, a car, or any other major item that is imported, you will pay very large import duties. Most of those things will cost you twice as much here as in the US. And, you can't just bring them here. If moving here is something you are considering, I strongly encourage one or more shorter trips to get a feel for the country.
My Current Status
I am pretty happy. My Social Security is way more than enough to live comfortably here and my savings is more than enough to pay for all the travel that I want to do over the next 10-20 years. Life is good in Ecuador. If you want to hang with the other ex-pats, there are plenty of them and Facebook or gringopost.com is a great way to stay in touch with the ex-pat community. Despite what you may have heard in the news about issues in Ecuador, Cuenca is pretty quiet and safe as cities go. Watching the international news (which I try to avoid), would make you wonder why anyone would want to live in the US.
The Real Adventure Begins
I have a 3-week trip to the Galapagos Island booked for mid-January of 2023. As a resident of Ecuador, and by January I will be 65, this trip costs me a fraction of what a tourist would pay. I have just started photographing Cuenca and have begun planning trips to Patagonia (by motorcycle), Columbia, the Ecuadorian Amazon rainforest, and Mindo…known for thousands of bird species including 400 species of hummingbirds. I figure it will take me 3-5 years to see and do the things in South America that are on my list. And then? Time will tell.
My Major Expenses
Rent* –  $700/month includes all utilities and high-speed internet (fiber optic in most places here)
Food – I have not tracked it closely, but including restaurants, I would guess $250/month.
Healthcare insurance – $120/month
Medicare Part B – $230/month and should reduce to about $160/month in 2024.
Public Transport – $0.35/trip (less once I turn 65)
Travel Expenses – We shall see
*I could easily find a very nice place for about half of this, but initially, this was an easy place to land.
Nathan Lake
December 8, 2022